Please be aware that Imagine Possibilities is currently running a waitlist with slots being filled as they open up on a best fit basis. If you are interested in scheduling a tour to see if our program is right for you or your loved one, please call us at (503) 649-6110 or email our program manager at amanda@imaginepossibilities.net
To apply for one of our programs, please fill out the Adults' New Participant Information Packet or the Children's New Participant Information Packet and email it to the Executive Director or Program Director.
Day Programs

Our primary offering is our day program, which runs from 9am to 6pm Monday through Friday. Participants who attend this program have the opportunity to go on daily scheduled outings one to two hours in length, to local stores, parks, restaurants, and attractions, where they can practice their social skills and engage in their communities. With four vehicles, many days there are nine or ten outings coming and going in our program. There are also periodic longer day trips offered, such as visiting the beach or a trip to Salem to meet with legislators.
When they're not on outings, participants in the day program can attend small groups at the facility; we offer cooking classes for participants to make snacks and treats, often using produce they've grown themselves in our accessible sensory garden; music therapy twice a week, where participants can sing, dance, and play instruments with friends; yoga group, where people can relax and meditate as well as stretch out and exercise, including a specially-designed wheelchair yoga portion with poses and exercises everyone can do; arts and crafts projects, games and puzzles groups, opportunities to practice social skills and languages, and more.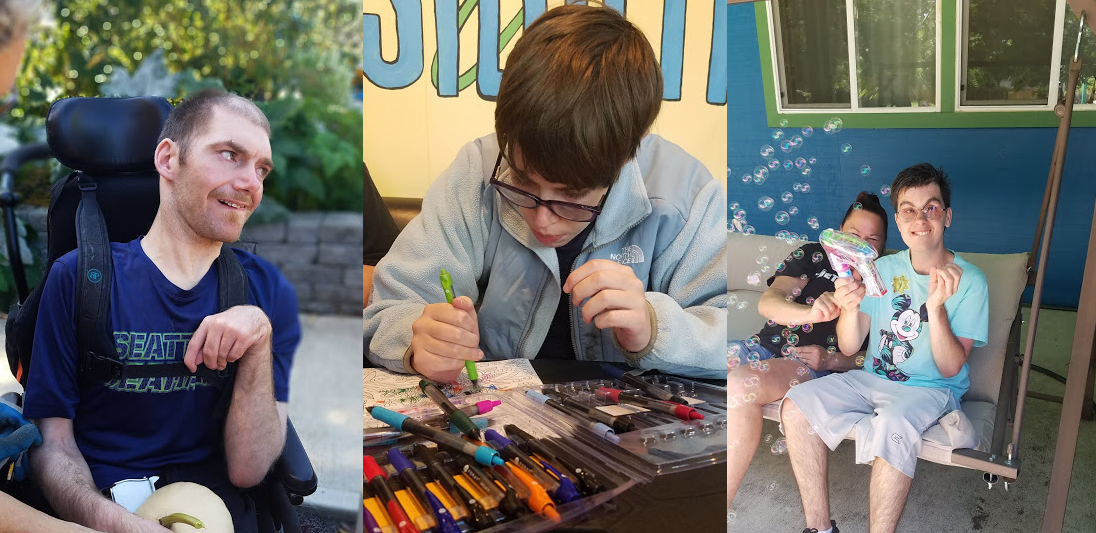 Helping Everyone Receive Equality (HERE)
The HERE program is for semi-independent individuals aged 18 and older, who want to participate in community volunteer opportunities. HERE educates and encourages participants to become active members of their Washington County community. It also encourages the community of Washington County to take an active part in the lives of individuals with intellectual or other developmental disabilities, encouraging the treatment of everyone as equals in society.
This smaller program runs from 9am to 2pm, Monday, Wednesday, and Friday. Participants volunteer at the Oregon Food Bank on Mondays, where they help sort and pack donated food to be disbursed to people and families in need. On Wednesdays they visit the Cat Adoption Team Thrift Store, where they do cleaning, sorting, and other projects to help out. "Fun Friday" outings go to places like Washington Square Mall, local arcades, OMSI, and more.  Throughout the week they also take trips to recycle bottles and cans and help purchase supplies for the programs.
The After School Center (ASC)
Our After School Center is for children over the age of twelve and young adults currently attending school. It runs in the afternoons, with variable schedules depending on the time the student arrives, and gives them an opportunity to socialize, go on outings in the community, and engage in groups and activities at the program, ranging from arts and crafts to baking and gardening. This program functions as part of our day program, with participants from both groups working on projects and activities together. Participants in this program often have increased hours during the summers and holiday breaks when schools are closed as well.
*