Kevin Burke, Executive Director
Every day I come to work grateful for the opportunity to be part of the team at Imagine Possibilities. This program is a dream made real for me; a place where staff can use their heads and their hearts to help participants enjoy being accepted for who they are while also feeling the thrill of  discovering new experiences and exploring new skillsa.
In the fifteen months I have been here a lot has changed at Imagine Possibilities. A lot has also stayed the same. Our committed long term staff are still in place. But we also have new staff  creating new programs. We have a brand new van with a wheelchair lift so all of our participants can participate in community activities of their choice.
Our team regularly meets with IP's participants to come up with ideas for outings and adventures. Recent examples included movie and restaurant outings, a kayaking trip on the Tualatin River and  a trip to the Salem to meet with our legislative representatives.
Still, at IP it is the day by day and hour by hour attention to our participants needs, thoughts and hopes that make the most important differences. We have a roster full of facility activities to pair with our busy schedule of outings. For one example: our community based volunteer program works at the Oregon Food Bank and other sites, but members also participate in groups at the facility to improve social skills, explore culture and diversity and practice reading and writing.
Our new programs include:
Our Encountering Nature program has gone to Multnomah Falls, to the Oregon Zoo and kayaking. This program is supported by groups to support sensory awareness, experience sports and science and explore local parks and wetlands.
Cultural Connections Goes to the library, shopping at Michael's for art projects, to OMSI and to other destinations. This program is also supported by our facility culture and diversity group, by yoga class and classes in Spanish culture. Our cooking group also seeks to share varied cultural traditions.
Life Unlimited seeks to integrate social skills, practice in self care, reading and writing and math skills with outings to local stores where participants make purchases to benefit their life styles and their choices.
Exploring Recreational Choices is our name for our program to support IP's participants getting out and having fun that they choose. Skills groups at the program support outings to local recreational destinations. With the arrival of our new van we will be adding some beach trips this summer.
If you are already part of our community of participants, family and friends please stop by and visit. We always welcome volunteers!
W. Kevin Burke
Executive Director
Miranda Talkington, Program Director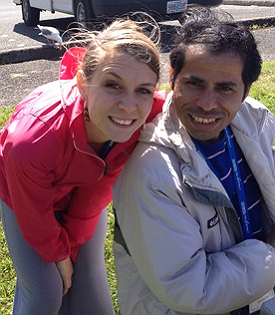 Hi! My name is Miranda Talkington and I am the Program Director at Imagine Possibilities. I am new to Oregon, and every day I am blown away by the beauty that surrounds me, especially in the work I get to do daily with the participants at Imagine Possibilities.
I grew up in West Virginia and attended West Virginia University, graduating with a Masters in Social Work, focusing on direct practice and working with individuals with disabilities. This was something I have been passionate about since childhood. I grew up with a parent with a disability, and knew early in my college career that my focus needed to be on establishing a career in a field that allowed me to support, empower, and hopefully take the necessary steps towards improving the lives of individuals living with a disability.
During my college career, I was fortunate to complete my Advanced Social Work Placement at the WVU Center For Excellence in Disabilities, as a Leadership Education in Neurodevelopmental and other related Disabilities (LEND) trainee. This allowed for a vast variety of experience working with children and families impacted by a disabilities. I was also able to spend 4 years working with an individual with Cerebral Palsy, who changed my life in so many ways. He taught me to look at life differently, to experience each day and be grateful for all that life has to offer. Imagine Possibilities has given me such a wonderful opportunity to impact the lives of children and adults with disabilities.
I feel so fortunate and grateful to spend my days with individuals whom, teach me something daily and provide me with a sense of purpose that I have always hoped to experience. My goal is provide those individuals, caregivers, parents, and staff with daily support that not only enhances their quality of life, but also allows them to connect with the community, and honors each of their unique qualities. My hope is that Imagine Possibilities will continually grow to create a whole world of possibilities for our participants.