Kevin Burke, Executive Director
Thirty-four years ago, Louis P. gave me a green pepper. And that's why I am here today. It was my first day working at a state institution on the East Coast. On my way in the door, a small man in a baseball hat and a dark gray overcoat about five sizes too big for him called out to me. He was standing beside a tiny garden plot that had been planted beside the entrance. Two wildly overgrown tomato plants sprawled through an uneven row of pepper plants. A lone eggplant gleamed darkly from the tangle of vines and stalks. Marigolds had been planted in a tight circle around the vegetables. I knew this was an old gardener's trick. The pungent smell of marigolds keeps bugs from finding the tender leaves of young vegetables.
"Hey, c'mere."
"Can I help you?"
"Here. Take it." He handed me a stunted green pepper.
"No really, I can't."
"Take it. It's okay."
I kept that pepper. I dried it in the sun and kept it on all my desks for fifteen years. Louis and I only knew each other for four of those years. We were part of the team closing down that institution. I read a poem at his funeral. But in those four years Louis taught me my purpose in life. To be a care giver. To help others find freedom, to realize their potential, to try things they might never have tried.
Knowing Louis gave me courage to follow my own path in life. I've been a case manager, a free-lance writer, and an area administrator in charge of nine group homes and a work activity center. Until recently I was a partner in a fiduciary firm that specialized in helping vulnerable adults who were victims of financial abuse. When the Board of Directors offered me the position of Executive Director for Imagine Possibilities just before Christmas last year, I did a happy dance that would have made Snoopy proud. I feel blessed to have been given the opportunity to lead IP into its next era.
Imagine Possibilities was founded 56 years ago to be a place where people with special needs could be safe, comfortable, and have a measure of happiness. Now we are looking to a future where all our participants, staff and families can share their special gifts. We are a unique community and we would like you to join us in our next phase. My predecessor Cathy Schaefer has left an enduring legacy through her care for the participants and staff at IP. Estela Rosas is both a talented administrator and a gifted care giver. Lead staff Sandra Mandujano and Shiva Shahrashoob have over 25 years of experience between them. There is a constant feeling of caring and connection that flows through the days. Please come visit and see for yourself.
W. Kevin Burke
Executive Director
Miranda Talkington, Program Director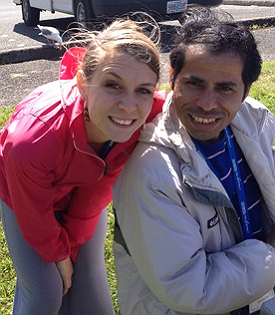 Hi! My name is Miranda Talkington and I am the Program Director at Imagine Possibilities. I am new to Oregon, and every day I am blown away by the beauty that surrounds me, especially in the work I get to do daily with the participants at Imagine Possibilities.
I grew up in West Virginia and attended West Virginia University, graduating with a Masters in Social Work, focusing on direct practice and working with individuals with disabilities. This was something I have been passionate about since childhood. I grew up with a parent with a disability, and knew early in my college career that my focus needed to be on establishing a career in a field that allowed me to support, empower, and hopefully take the necessary steps towards improving the lives of individuals living with a disability.
During my college career, I was fortunate to complete my Advanced Social Work Placement at the WVU Center For Excellence in Disabilities, as a Leadership Education in Neurodevelopmental and other related Disabilities (LEND) trainee. This allowed for a vast variety of experience working with children and families impacted by a disabilities. I was also able to spend 4 years working with an individual with Cerebral Palsy, who changed my life in so many ways. He taught me to look at life differently, to experience each day and be grateful for all that life has to offer. Imagine Possibilities has given me such a wonderful opportunity to impact the lives of children and adults with disabilities.
I feel so fortunate and grateful to spend my days with individuals whom, teach me something daily and provide me with a sense of purpose that I have always hoped to experience. My goal is provide those individuals, caregivers, parents, and staff with daily support that not only enhances their quality of life, but also allows them to connect with the community, and honors each of their unique qualities. My hope is that Imagine Possibilities will continually grow to create a whole world of possibilities for our participants.