For Employers & Businesses
Every business is distinctive and unique requiring basic the need for a team of hardworking, dedicated employees.  More and more employers are recognizing the value of a diversified workforce and hiring people with all abilities.
Reduced Hiring Costs – We match the right candidate to the right job, resulting in long-term employment and lowering turnover rates.
Improved Customer Service and Innovation – Employees with disabilities bring unique experiences and perspectives that transform a workplace.
Diversified Workforce – Diversity increases positive morale and enhances teamwork. Valuing diversity teaches employees to be more comfortable and responsive to all customers.
Optimized Ergonomics – Building tasks and allowing employees to work to their strengths, results in higher efficiency rates.
Enhanced Consumer Appeal – Studies show that customers prefer to support businesses that employ people with all abilities.
Learn more about how Imagine Possibilities can assist you in meeting your workforce needs, give us a call at 503-649-6110 or email us at christina@imaginepossibilities.net
Getting Started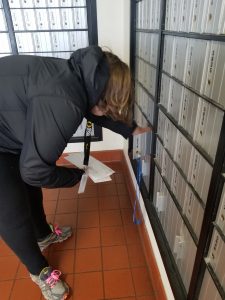 At Imagine Possibilities, we're focused on the participant's ability and how to match that with their interests. Supported individuals are more likely to stay in a position they enjoy for multiple years when they thrive in a strong, invested employer. Imagine Possibilities Employment Consultants make sure to connect a potential employee with the right employer. We are there every step of the hiring process to support the participant and the employer.
Benefits of Partnership
Thoroughly screened applications
Employees' abilities matched to job tasks
On-site job training by professional Employment Consultants
Additional training, as necessary
On-going consultation is available
Workforce reflects your community
No fee to business
Exploring the Possibilities
Explore workplace needs
Provide information on Diversity
Identify, modify, or create appropriate jobs
Making the Match
Provide access to individuals who want to work and make a contribution
Match your job needs to individuals in our talent pool
Assist with the interview process
On-Site Training and Orientation
Educate co-workers about effective communication and teaching skills
Work together to design and implement training and support strategies for the new employee
Ongoing Support
Continue working with the business and co-workers to assure employee support
Work with the employee when the job changes or new tasks are added
Resources
"Over 6000 Oregon businesses have found the answer to their employment needs. Motivated, Reliable, Dependable. What every employer is looking for in an employee. We understand employers need to find and employ the best candidates. The Oregon Vocational Rehabilitation Services Department (OVRS) represents one of Oregon's greatest untapped labor pools: skilled, motivated, responsible men and women — willing workers — who happen to have disabilities. They're not looking for a handout, just the same thing that other job candidates hope for: A chance to prove themselves." –thinkbeyondthelabel.com
DHS Employment First:
http://www.oregon.gov/DHS/EMPLOYMENT/EMPLOYMENT-FIRST/Pages/employer-info.aspx
Oregon Vocational Rehabilitation:
http://www.oregon.gov/DHS/EMPLOYMENT/VR/Pages/Employer-Services.aspx
WiSE: