Kevin Arin Dennis was born in Coos Bay, Oregon June 7, 1963.  He passed away last month on June 26th, 2014.  He is survived by his sisters, Micki and Melissa, many aunts, cousins, nieces, nephews, and in-laws from across the country.
When remembering Kevin, we are struck by his great sense of wonder and curiosity, his love of everything Country and his passion for strumming the guitar and singing.  He loved to go camping and provide campfire entertainment with his guitar.  He was also a great fan of wrestling and scary movies.
He loved going to work at Tualatin Valley Workshop and the sense of purpose and responsibility it gave him.  He learned to ride the Tri Met bus to work and was proud of his independence.
He also loved participating in Special Olympics and tried several sports before finding his passion in bowling.
When Kevin was diagnosed with Alzheimer's and could no longer work at Tualatin Valley Workshop, he started going to Imagine Possibilities full time. He loved the staff and other participants and being a part of the program.
Mr. Kevin Arin Dennis touched many lives and will continue to touch many more through the memories of his laughter, love and endless hugs.
Take moment to watch the video that remembers him and the beautiful life he lived.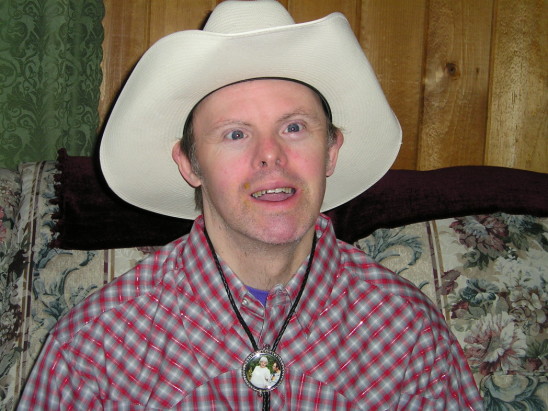 Friends of Imagine Possibilities,
We have launched a fundraiser to address the need for funds that provide service for individuals with intellectual and developmental disabilities in our community and to continue to offer them a place to IMAGINE.
Visit our campaign at www.gofundme.com/imaginepossibilities and contribute what you can today. Every bit helps us reach our goal.
Thank you,
Cathy Schaefer
Executive Director, Imagine Possibilities INC.
Join Imagine Possibilities in celebrating the fall bounty with an Oktoberfest themed dinner and auction at the NW Events & Environments Center in Hiillsboro.
To purchase tickets, make donations, and review the catalog of items for auction, go to: https://imaginepossibilities.ejoinme.org/imagineauction2014
You can also purchase tickets directly from Imagine Possibilities.  Send a check with "auction" in the subject line to the office at:
Imagine Possibilities
PO Box 5778,
Aloha, OR 97007-0778
Imagine Possibilities is participating in the Cause+Event Portland on September 13, 2014 at Bethany Village. Events include 5K run/walk, 10K run, and Hillaceous Half Marathon, Tot Trot, 1 mile red cross free fun run, music and after race party.
Imagine Possibilities is one of the participating charities benefiting from this event.  When you register as a member of the Imagine Possibilities team, proceeds benefit Imagine Possibilities.
Visit www.causeandeventportland.com for more information and to register.  Registration is on a first come first serve basis and only the first 1000 registrants may participate so register today to reserve your spot!
Thank you from Imagine Possibilities.
July 25th, 2014
Heron Lakes Golf Club
3500 N. Victory Blvd. (Near the Expo Center)
Portland, OR
Imagine Possibilities and ARRO are partnering together to bring you the 2014 Aim High Charity Golf Tournament!  Your support helps the continued service of two important charities further the mission of advancing the lives of individuals with intellectual and developmental disabilities.
Many fantastic sponsorship opportunities available.
Registration includes:
Green Fees
18 Holes of Golf at Heron Lakes Golf Club
Great Blue Course
Cart Use
All Course Games
A Fantastic Shirt
Delicious Lunch
You can register today by visiting http://aimhighgolf.org
Contact Mary Bennett at mbennett67@yahoo.com with questions or for more information.